2 Meter & 70 cm Repeaters
Our NBARC Club repeater is located on the W4EWN repeater @ 146.610 MHz 100.0 tone. All hams are welcome to check-in and use our club repeater anytime. Each Tuesday, we have a 2-Meter "NBARC Net" @ 7:00 PM on the W4EWN New Bern Repeater @ 146.610 MHz (100.0 tone).
The NBARC Repeater is located at the Filling Station in Pollocksville, NC with about a 25 mile coverage radius.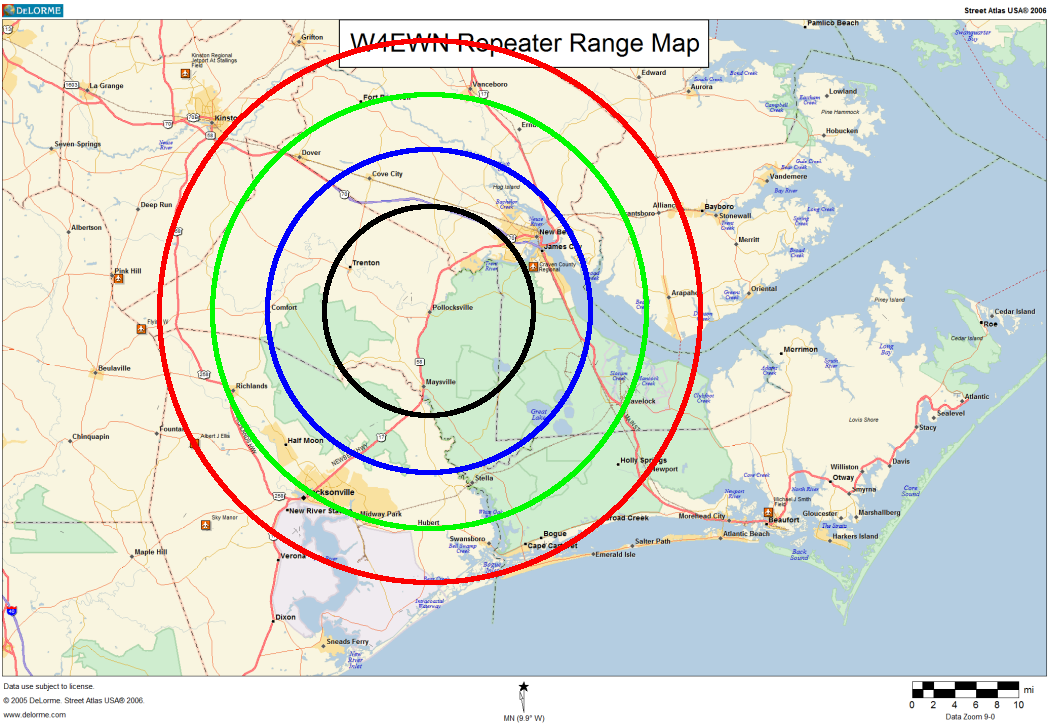 Legend
Black: 10 miles
Blue: 15 miles
Green: 20 miles
Red: 25 miles
A nightly 2-meter "rag chew" net is held every night except Sundays @ 8:00 PM on the KF4IXW Grantsboro, NC Repeater 145.230 MHz 85.4 tone. We thank the owners of this repeater for the use of the local "rag chew" net.
| | | | | | | | | |
| --- | --- | --- | --- | --- | --- | --- | --- | --- |
| Call Sign | Location | Frequency | Offset | Mhz | Tone | City | State |  Notes |
| SIMPLEX | Nationwide | 146.520 |    none | none | None |  All |  All | |
| W4EWN | Pollocksville | 146.610 |      - | 0.6 | 100 | New Bern | NC | |
| KF4IXW | Grantsboro | 145.230 |      - | 0.6 | 85.4 | Grantsboro | NC. | 8pm nightly Rag Chew |
| W4SLH | Oriental | 147.210 |      + | 0.6 | 88.5 | Oriental | NC | |
| W4NBR | Grifton | 146.685 |      - | 0.6 | 88.5 | Grifton | NC | |
| K4BCH | Chocowinity | 147.255 |      + | 0.6 | 131.8 | Chocowinity | NC | |
| K4BCH | Bath | 146.955 |      - | 0.6 | 131.8 | Bath | NC | |
| W4OIX | Kinston | 145.470 |      - | 0.6 | 88.5 | Kinston | NC | |
| NC4OC | Hubert | 147.000 |      - | 0.6 | 88.5 | Hubert | NC | |
| WD4FVO | Jacksonville | 145.190 |      - | 0.6 | 88.5 | Jacksonville | NC | |
| KE4FHH | Swansboro | 146.760 |      - | 0.6 | 88.5 | Swansboro | NC | |
| K4GRW | Newport | 145.450 |      - | 0.6 | 100 | Newport | NC | |
| W4GDF | Greenville | 147.090 |      + | 0.6 | 131.8 | Greenville | NC | |
| WD4JPQ | Greenville | 145.350 |      - | 0.6 | 131.8 | Greenville | NC | |
| KD4EAD | Bethel | 147.375 |      + | 0.6 | 151.4 | Bethel | NC | |
| K4SER | Williamston | 145.410 |      - | 0.6 | 131.8 | Williamston | NC | |
| K4CYP | Goldsboro | 146.850 |      - | 0.6 | 88.5 | Goldsboro | NC | |
| K4JDR | Rosewood | 145.330 |      - | 0.6 | 100 | Rosewood | NC | |
| WA4WAR | Wilson | 146.760 |      - | 0.6 | 131.8 | Wilson | NC | |
| K4OBX | Engelhard | 146.715 |      - | 0.6 | 131.8 | Engelhard | NC | |
| Kx4NC | Columbia | 146.835 |      - | 0.6 | 131.8 | Columbia | NC | |
| WO3F | New Bern | 442.075 |      + | 5 | 100 | New Bern | NC | |
| KF4IXW | Grantsboro | 444.875 |      + | 5 | 85.4 | Grantsboro | NC | |
| W03F | Newport | 444.825 |      + | 5 | 88.5 | Newport | NC | |
| NC4ES | Bath | 442.550 |      + | 5 | 82.5 | Bath | NC | |
| N4HAJ | Kinston | 442.000 |      + | 5 | 88.5 | Kinston | NC | |
| KE4FFH | Hubert | 444.675 |      + | 5 | 88.5 | Hubert | NC | |
| N4HAJ | Greenville | 444.725 |      + | 5 | 91.5 | Greenville | NC | |
| KD4KTO | Stacy | 444.000 |      + | 5 | 131.8 | Stacy | NC | |
| K4CYP | Goldsboro | 443.000 |      + | 5 | 88.5 | Goldsboro | NC | |